The Douro River and its bridges connecting Porto and Vila Nova de Gaia are one of the most beautiful landscapes of Portugal's second city.
To take in the lovely Douro River views, here are six hotels ranging from five-star luxury to affordable boutique properties.
Wake up to a Douro view – here's your recipe for an unforgettable stay in Porto.
The Yeatman
On the list of the best for luxury, the Yeatman has a quiet location in Vila de Nova de Gaia. It offers panoramic views of Porto from its rooms with private terraces. Ribeira is within walking distance through the impressive Dom Luís Bridge. Enjoy two tasting menus by chef Ricardo Costa at the two-Michelin-starred Yeatman Restaurant.

Pestana Vintage Porto Hotel & World Heritage Site
Located in a 16th-century building in the heart of the historic city, Pestana Vintage Porto is a great five-star hotel for a romantic stay. Hotel guests love the stunning views and fabulous breakfast.

Pestana Palácio do Freixo – Pousada & National Monument
Sitting in an 18th-century Baroque building, Pousada do Porto is a bit off the historic centre, but its luxurious modern rooms offer amazing views of the Douro. The hotel has an infinity pool overlooking the river, a spa, an indoor pool and a sauna. But it's staying in a palace that makes this hotel unique.

Eurostars Porto Douro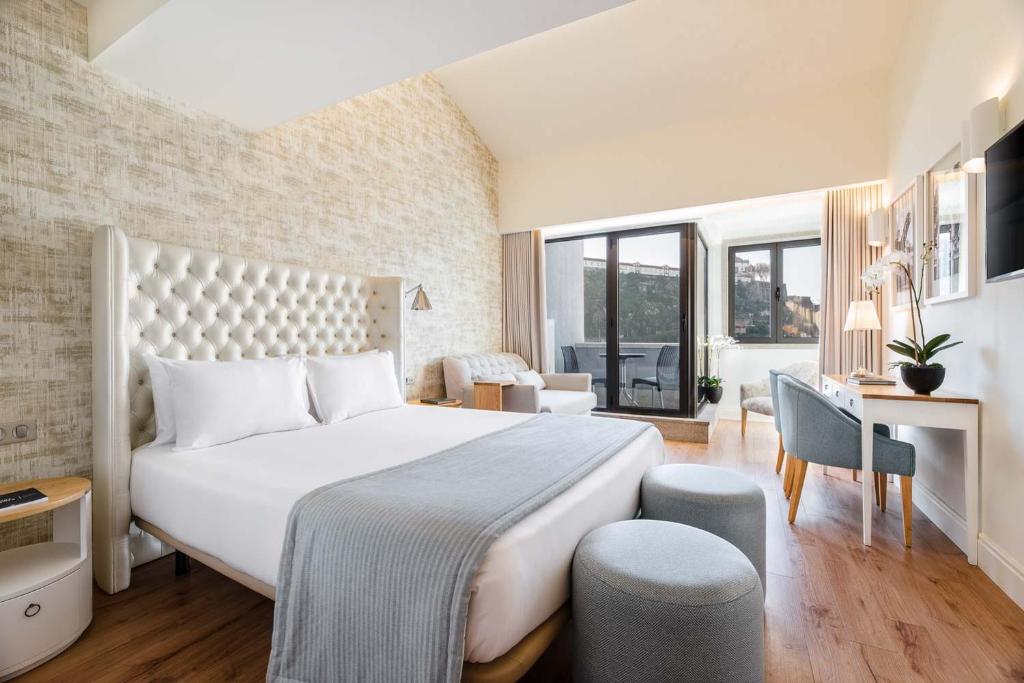 Eurostars Porto Douro is a four-star hotel with elegant and spacious rooms. Some offer unique views of the Douro River and Dom Luís Bridge. The hotel is located 5 minutes' walking distance from the Ribeira area and 10 minutes from the Port Wine Cellars across the river in Vila Nova de Gaia.

1872 River House
1872 River House is the name of a cozy guest house located in a 19th century pink mansion, by the riverside and very close to the Ribeira. Each of the four storeys has one room with a river view, and another with a city view, both simply yet tastefully decorated. Your room rate includes an excellent breakfast.

Ribeira do Porto Hotel
Ribeira do Porto Hotel is a three-star boutique hotel located in one of the most typical neighbourhoods in Porto. The rooms offer unique views of the Douro River and Dom Luís Bridge. Considering the central location, the quality, with breakfast included in your room rate, this hotel is a great value for money.