With the largest native forest area of the Azores, Terceira Island is a holiday destination for those who love experiences in contact with nature, and want to be dazzled by the island's coastline and volcanic landscapes.
The best way to get to around Terceira is to rent a car and explore its forts, viewpoints, quaint towns such as Biscoitos, and the amazing Algar do Carvão, a dormant volcano. And don't forget that Angra do Heroísmo's city centre is a UNESCO World Heritage Site.
Most hotels on Terceira are located in Angra do Heroísmo. But Praia da Vitória, closer to Terceira Airport, is also a nice town, with some great accommodation options. Or if you prefer a more rural option, we have included one as well. Here are some of the best hotels on Terceira Island.
Pousada do Castelo de S. Sebastião
Located on top of a cliff in Angra do Heroísmo, this is a hotel with a modern interior that occupies a 16th century fortress. The suite and some rooms offer views of the ocean and Monte Brasil, a natural reserve. By combining historic heritage and an excellent location, Pousada do Castelo is one of the best accommodation options on Terceira Island.
See rates Pousada do Castelo de S. Sebastião
Terceira Mar Hotel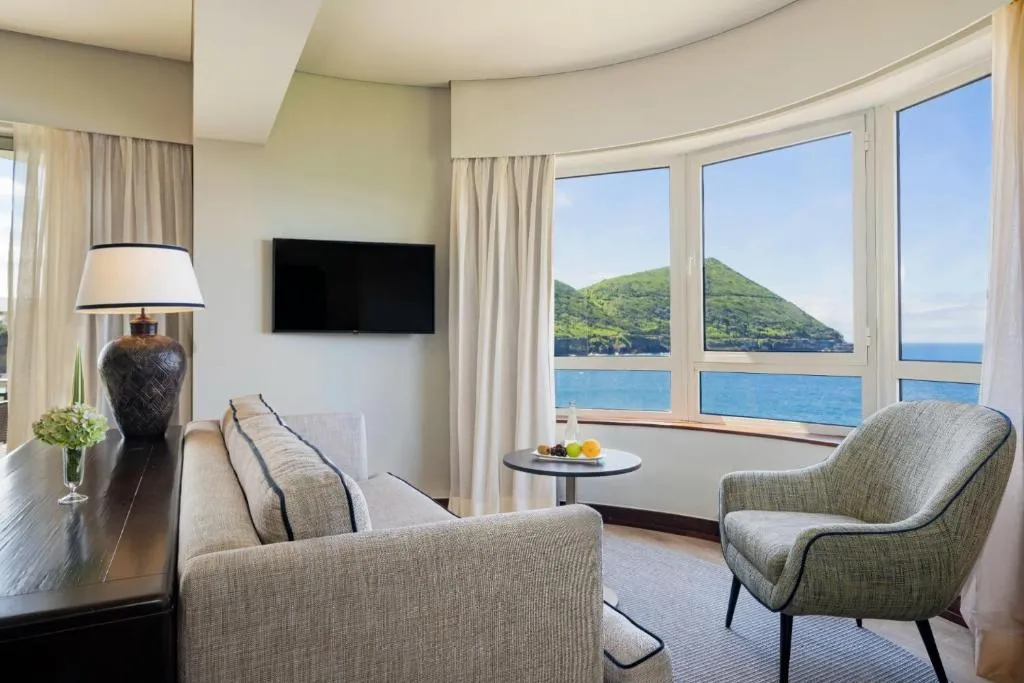 Located 10 minutes from Angra's city centre, Terceira Mar Hotel offers views of Fanal Bay, and has a salt-water swimming pool and a large palm garden. Guests on Booking.com appreciate the amazing views from the rooms, a delicious breakfast, and a great location.
See rates agora Terceira Mar Hotel
Hotel Cruzeiro
The recently-opened Hotel Cruzeiro has comfortable rooms with an exceptional breakfast included in the price. The hotel offers free parking, and it's conveniently located, walking distance from the UNESCO World Heritage city centre.
See rates Hotel Cruzeiro
Hotel do Caracol
Hotel do Caracol is one of the best options in Angra do Heroísmo. Renovated in 2018, the spacious rooms have balconies, most with ocean views. The outdoor pool also faces the Atlantic. Angra's city centre is within a few minutes' walk or drive. Booking.com guests appreciate the breakfast variety and quality.
See rates Hotel do Caracol
Atlântida Mar Hotel
Atlântida Mar Hotel is one of the best options if you decide to stay in Praia da Vitória, which is also a nice coastal town, closer to Terceira Airport. All rooms offer sea views and some include a small kitchen. This hotel has an outdoor pool, sauna, hot tub and gym, and direct access to the Atlantic Ocean Promenade.
See rates Atlântida Mar Hotel
Pico da Vigia
Pico da Vigia is the ideal accommodation for a totally relaxing Azores holiday. The property is located in Santa Bárbara, about 13 kilometres west of Angra do Heroísmo. It overlooks the ocean and is laid out to emphasize the view. The villas offer all amenities, including an oven, a microwave and a coffee machine. Breakfast includes delicious regional products.
See rates Pico da Vigia